KAWAI SEIMITSU KINZOKU CO., LTD. (KSK)
---
THE METAL BUSINESS OF KSK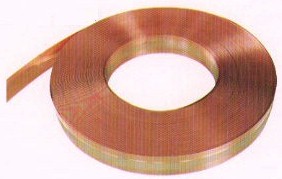 KSK's metal business originated from the rolling technology of making reeds for organs and harmonicas at Kawai Musical Inst. Mfg. Co., Ltd.
In the middle of 1960s, we set about the business of step-sectioned-strip forming for connector. In 1974, its technology was admitted for reliability by TTPC (Japan Telegraph and Telephone Public Corporation, presently NTT) and adopted to their spring for electronic exchange relay. From the middle of 1970s, the technology also attracted the public eye very much as a new forming technique of lead frame for transistors. KSK was given prizes by the Director of the Science and Technology Agency and the Chairman of the Association of Patent Attorney for this technology in 1979.
KSK was established as a subsidiary of Kawai Musical Inst. Mfg. Co., Ltd. and succeeded to their own technology and patented machines which Kawai had developed to make cross section of rolled step-sectioned-strip with fine accuracy. In recent years, we have established the step-sectioned-strip processing technology for not only copper but also iron series and new materials including hard-to-process titanium and thus occupied the premier top position in the field of rolled step-sectioned-strip both in quality and quantity.
Those metal processing technologies acquired in the above-mentioned history of research and development are applied to the production of clad metals and steel strips that require fine accuracy. Our business is brisk, mostly from such industries as the electronic parts and automobile parts.
Also, the know-how which we have earned in many year's of our researches and experiments hold strong potentials to develop new business in quite new fields of industries. We, as an innovative company, are willing to offer these skills and trying to meet needs of the society worldwidely and advancing steadily and vigorously toward the 21st century.

---
OUTLINE OF THE COMPANY
NAME :

KAWAI SEIMITSU KINZOKU Co., Ltd.

LOCATION :

1-4-3 Shinmiyakoda, Kitaku, Hamamatsu, Shizuoka, JAPAN 431-2103
Phone: (81)-53-428-5601
Fax: (81)-53-428-5510

DATE OF ESTABLISHMENT :

March 5, 1980

PAID-IN CAPITAL :

200 Million Yen

BUSINESS ACTIVITIES :

Processing and sales of metals by precision step-sectioned-strip forming technology.
Production and sales of various parts for electric and electronic equipment.
Production and sales of parts for musical instruments.

MATSUMOTO OFFICE :

5652-111 Sasaga, Matsumoto, Nagano, JAPAN 399-0033
Phone: (81)-263-27-2277
Fax: (81)-263-27-3796

---
Home Page
---
Link to Kawai Musical Instruments Mfg. Co., Ltd.

---
ksk-info [at] kawaiseimitsu.co.jp *[at] = @

---