ROLLED STEP-SECTIONED-STRIP (PLATE)
---
Capable of producing rolled step-sectioned-strips of all sorts of alloys, into any form, with high precision and high quality.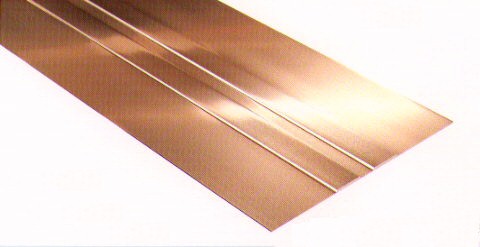 ---
The Kawai industrial technology at its highest sophistication.
Kawai rolled step-sectioned-strips with fine precision are epoch-making and the most conclusive factor to minimize your production costs.

---
Kawai rolled step-sectioned-strips save you money. Having a variety of features, they undoubtedly bring you considerable merits. A patent has been granted for the unique and original rolling process, and KSK was awarded a prize by the Director of the Science and Technology Agency for this rolling technology.
KSK is the first company in the world who started production of rolled step-sectioned-strips and succeeded in practically using such new materials as titanium. Kawai rolled step-sectioned-strips have become indispensable to electronics-related parts, especially lead frames and connectors of power-transistors, where fine precision and quality are strictly required.

---
FEATURES OF KAWAI ROLLED STEP-SECTIONED-STRIP (PLATE)
High Accuracy in Thickness

It fits any post-processes and produces high precision products through punching and bending processes.

Smoothly Surfaced on Both Sides

Advantageous for surface treatment, it minimizes precious metal consumption in plating.

A Variety of Forming

Made to order, it gives you freedom of designing.

Very few Waving and Cambers

It makes it easy to automate post-processes and other processing.

Stable Quality
No Machining-Hardened Layer, Equal in Quality and Hardness of Material
Capable of Making Cross Section Profile including Convex and Concave Types of Radius
---

SCOPE OF PROFILE

CROSS SECTION PROFILE
---
USE

Lead frames for IC's and transistors, various connectors, springs, terminals, clad material, magnetic parts, parts of office automation equipment, motor parts, automobile parts, etc.

PROCESSIBLE ALLOYS

Deoxidized copper, oxygen-free copper, various alloy coppers, phosphor bronze, brass, other copper series alloys, titanium, titanium alloy, iron-nickel alloy, stainless steel, silicon steel and other steel alloys.
Please feel free to contact us for processing of other metals.

GENERAL PROCESSING OF STEP-SECTIONED-STRIPS

We welcome any inquiries as to not only secondary and third processes of step-sectioned-strips but also step-sectioned-strips formed by machining, profiled cable, etc.
---
Home Page
---
ksk-info [at] kawaiseimitsu.co.jp *[at] = @

---