CLAD METAL
---
Applying Kawai's exclusive step-sectioned-strip processing technology, "Kawai clad metals" make it possible to produce characteristic profiles and contribute greatly to increase precision and functions of your parts and, at the same time, minimize the costs.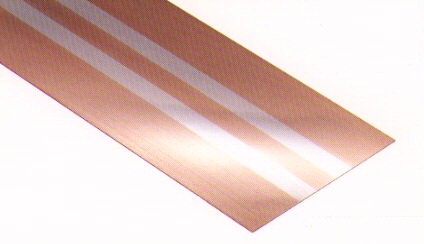 ---
Kawai original rolling and step-sectioned-strip processing technology combined with cladding technology has enabled us to produce clad metals of various profiles.
"Kawai clad metals" bring forth every merit, save you precious metals and increase functions of your parts.

---
FEATURES OF KAWAI CLAD METALS
Characteristic Profiles

Characteristic profiles of clad metals, such as "inlay type", "various types of step-sectioned-strip", "core type", and composite of these can be produced economically by the application of Kawai's processing technology of rolled step-sectioned-strips.

High Junction Strength

Joining different metals by way of "cold rolling and cladding + diffusion annealing", the junction is metallurgical. Therefore, we can produce clad metals of very high junction strength.
---

EXAMPLES OF PROFILES

SCOPE OF PROFILE
---
COMBINATION

IRON + COPPER (ALLOY),
COPPER (ALLOY) + SILVER (ALLOY)
PARMALLOY + COPPER (ALLOY)
42-ALLOY + SILVER (ALLOY)
etc.

USE

Lead frames, magnetic shield plate, switches, contact relays, heat sinks (radiators), other electronic parts, automobile parts, etc.
---
Home Page
---
ksk-info [at] kawaiseimitsu.co.jp *[at] = @

---